D
ual mirror Small-Size Telescopes for CTA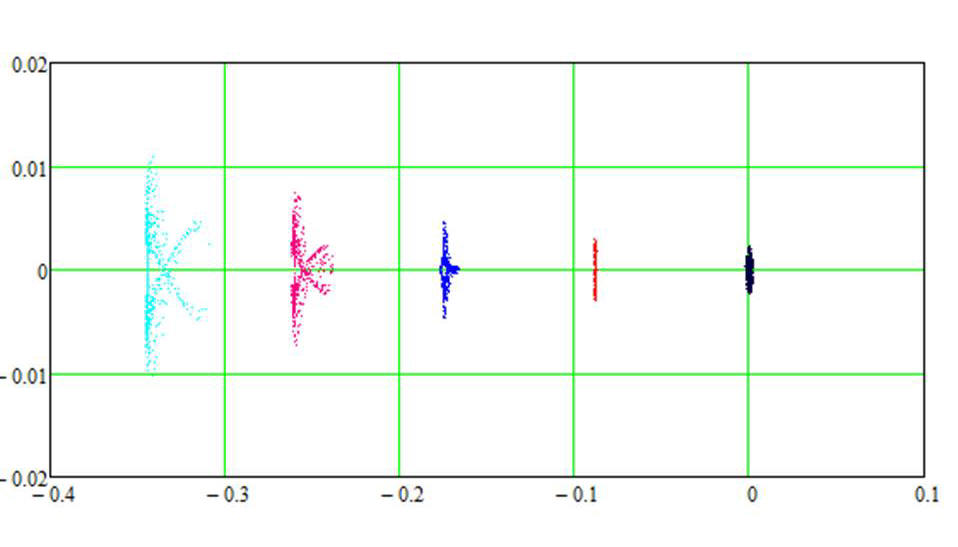 Results obtained in 2009 from first ray tracing studies for a dual mirror (Schwarzschild-Couder) SST (scales in mm)

Results of tests in 2019 of CHEC-S on the ASTRI-Horn telescope

Some CTA pages

CTA home page

CTA user registry

CTA indico pages

CTA CB indico pages

SST indico pages

GCT indico pages

CHEC GitHub pages

CTA Documents Centre

CTA Project Office

CTA Project Office Documents

CTA Project Management

CTA Requirements

CTA change control status

CTA SAPO

CTA Construction Project

CTA publications

CTA glossary

Redmine account settings

CTA project redmine site

SST redmine site

GCT redmine site

libCHEC redmine site

CB redmine site

CTA members by institute and country

CTA membership and FTEs (Verify FTE numbers before CB meetings)

CTA membership and FTE validation (Verify that the FTE numbers have been verified!)

CTA mailing lists

CTA e-group management

CTA mailing lists

Subscribe to GCT mailing list

Administer GCT mailing list

CTA on Facebook

CTA on Twitter

CTA on Flickr

CTA on You Tube


CTA on Linked In

La Palma webcams

CTA workshops, meetings, conferences and schools

CTA Science meeting, June 2021

CTA Online meeting, May 2021

CTA Online meeting, October 2020

CTA Online meeting (was Sofia meeting), May 2020

CTA Consortium telecon, April 2020

CTA Bologna meeting, October 2019

CTA Lugano meeting, June 2019

CTA Berlin meeting, indico agenda, September 2018

GCT Liverpool meeting, indico, June 2018 (cancelled!)

CTA Orsay meeting, indico agenda, May 2018

EWASS 2018, Liverpool, April 2018

GCT Paris meeting, indico, December 2017

CTA La Palma meeting, indico agenda, November 2017

STAC meeting, October 2017

CTA Rio meeting, indico agenda, May 2017

Earlier CTA meetings.

GCT meetings.

SST meetings.

Gamma 2016, Heidelberg, July 2016

RAS CTA meeting, May 2016

GCT Inauguration, November/December 2015

STAC Critical Design Review, indico, June 2015

ICHEP 2014 Valencia, indico agenda, July 2014

SST review, July 2014

National Astronomy meeting, Portsmouth, June 2014

Amsterdam CHEC/GATE meeting, June 2014

Durham CTA-UK meeting, February 2014

The Violent Universe, IoP Topical Research Meeting, October 2013

Liverpool CHEC meeting, October 2013

Leicester CTA-UK meeting, April 2013

Leicester SST meeting, April 2013

Nicolosi SST meeting, October 2012.

Liverpool CTA-UK meeting, September 2012.

International School of Cosmic Ray Astrophysics, July 2012.

International School of Astroparticle Physics, July 2012.

Gamma 2012, July 2012.

Gamma Ray Bursts in the era of rapid follow-up, June 2012.

Paris mini-array meeting, May 2012.

Krakow SST Meeting, March 2012.

SST review, October 2011.

Meudon SST meeting, September 2011.

Durham CTA-UK meeting, March 2011.

LINK workshop at The Cosener's House, November 2010.

The Future of Gamma-Ray Astronomy, Leicester, October 2010.

Liverpool SST meeting, September 2010.

Liverpool electronics meeting, June 2010.

The TeV Universe, Liverpool, January 2010.

CTA Zürich meeting, October 2009.

Mirror studies

GCT mirror file space

Some INFIERI pages


INFIERI home page

INFIERI workshops, meetings, conferences and schools

INFIERI Sao Paulo school, January 2017

INFIERI Fermilab meeting, indico agenda, October 2016

INFIERI Pisa workshop, October 2015

INFIERI mid term review, indico agenda, December 2014

Oxford INFIERI workshop, July 2013

Institutes, Universities

and Companies

Brera Observatory

ASTRI

Ecole Polytechnique, Palaiseau

Paris Obervatory

GATE

Landessternwarte, Heidelberg

Max Planck Institute, Heidelberg

Royal Astronomical Society

RAS Fellows pages

Glyndwr Innovations

Siltint

Other Astrophysics pages

HESS

MAGIC

VERITAS

CANGAROO

LSST

Some other useful web pages

Map of sources of gamma rays

Gamma ray source catalogue

Seismic hazard maps

Cosmological calculator

Online project viewer

AGIS

Travel information

Liverpool insurance form

Hotel Astor, Bologna

Hotel Arcoveggio, Bologna

Getting to Amsterdam Science Park

Hotel Elite, Heidelberg

Hotel Exzellenz, Heidelberg

Hotel Kohler, Heidelberg

Hotel Krokodil, Heidelberg

Boarding House, Heidelberg