Mechanical specifications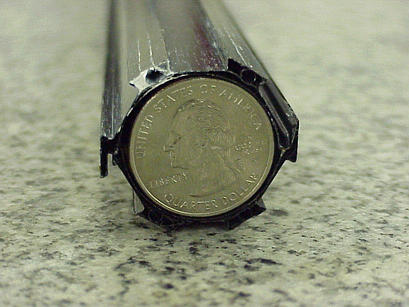 End view of two carbon fibre half-rings. Note the castellated structure to support the wide detectors above and the narrow detectors within. The holes in the carbon fibre are for cooling tubes to pass through. To give an idea of the scale of the structure, a quarter (roughly the size of a 10p) has been placed inside.
General
The support structure is composed of four half rings.
Two half rings join together to form a tube 45 cm long. This supports a silicon barrel.
Two barrel tubes are joined together by a circular clasp to form the entire support.
Each half shell contains holes for two cooling tubes.
Each half shell supports 3 narrow and 3 wide sensors.
Detailed